In february we moved our gear into Palace of pleasure's studio and sheared time and rent with them. We had also got tired of waiting for response from Belgium, and started planning to release the two cd's on our own label, in co-work with Tore Bøe from Origami. In May we send the cd's for press to "Future Age Music" in england, and in June kai printed the cover.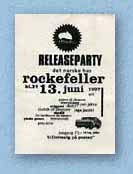 Release: «Det Norske Hus», compilation-cd.
Some of the people around "Grünerløkka Lufthavn" planned to start a new label called new dBut, and wanted to release a compilation cd called «Det Norske Hus» (dBut) with all the bands, where we got an invitation to join.

Concert: Rockefeller, Oslo.
The releaseparty was at Rockefeller, Oslo, 13.06. Henning played percussion and drums. "Palace of Pleasure", "Sternklang", "Perculator" "Pen Jakke", "Origami", "Sketch of Pleasure", "Jaga Jazzist", "Medit", "Les tambours du Stavern", "Pluto Press" and "Terranoids" played on the same evening. The response on both the cd and the concert was overwhelming.


Release: «Abeyance» Dbl-cd.
In august «Abeyance» (Mold) was ready, and the job on distribution and sale started. Running a label, at the same time as full time job and band-project was time killing. The response on «Abeyance» was not what we had hoped for, and distribution was near impossible. So the effort on sale and distribution stopped after a while.



Release: «Arctic Circles», compilation-cd.
We got yet an invitation to join on a compilation cd, this time from the new label Beatservice in Tromsø, and in the fall «Arctic Circles» (Beatservice) was released. The response was very good, especially in Europe.